Music
&nbsp Blue Highway - bios and essays, blues radio listings, blues news, a blues mall, and the best blues links on the web.



&nbsp It's Biscuit Time on the BLUES WEB

&nbsp Woody Guthrie & the Archive of American Folk Song

&nbsp Search for Musical artists on the Web with Artist Direct

&nbsp All Music Guide.

&nbsp Welcome to Rykodisc!

&nbsp Rounder Records.

&nbsp Rhino Records.

&nbsp Antoines', Austin's Blues Club and Record label

&nbsp Alligator Records , label of some of the best of the Blues around today!

&nbsp Blind Pig Records

&nbsp Newport Folk Festival

&nbsp Woody Guthrie Folk Festival!

&nbsp Blues Festivals Listings



Here are some links to some of groups & musicians that I saw in concerts summer of 2003. It was a great summer for concerts.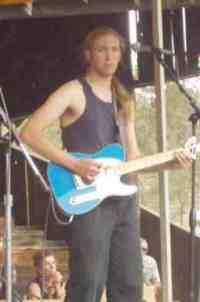 &nbsp Alex Maryol a young New Mexican who can can play blues-rock guitar as though he played it for three life times.

&nbsp Tab Benoit mixing Blues and Cajun, one of the greats from New Orleans.

&nbsp Carey Bell, Harpist & one of the Legends of Chicago Blues

&nbsp Michael Hill's Blues Mob an awesome Original New York Style Blues Band

&nbsp Todd Tijerina Band brings Chicago Blues to New Mexico.

&nbsp Rory Block carrying on the tradition of country blues & one of the most passionate blues musician around.

&nbsp Roomful of Blues fuses Jazz and Blues. I've seen them before, and they just get better and better.

&nbsp James Cotton Blues Harp great still singing & playing the blues!

&nbsp Robert Lockwood Jr is a living Blues legend who plays country blues the way it use to be played, with style!

&nbsp B.B. King is 77 and still bring the Blues to his fans!

&nbsp Keb' Mo', one of my favorite Blues Men.

&nbsp Spreadweb has lots of information about Widespread Panic & the Widspread Panic Home Page. I'm so glad they play in Santa Fe every other year. Thanks Widespread Panic!

&nbsp Jackson Browne is still wonderful after all these years.


&nbsp Crosby, Stills & Nash, I've loved them since I first saw the film Woodstock!

&nbsp Jeff Beck left me breathless after his amazing playing. Jeff is a true virtuoso, and he takes the music he played in the past to new levels & to the edge and back again.

&nbsp Los Lobos can play anything & play it well!

&nbsp Nanci Griffith country folk singer extraordinaire



Some of the other groups & musicians I've seen in concert and will always love: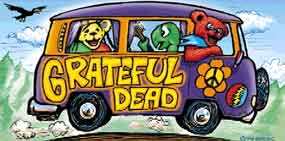 &nbsp Official Home Page of The Grateful Dead

Deadlegs.com

SugarMegs Audio @ Terrabyte Station

&nbsp Links to 225 Grateful Dead Music sites


&nbsp Shady Grove - The Quicksliver Messenger Service Page

&nbsp David Byrne Page.