Bartolomé Romero
Born: Apr 1563, Corral de Almaguer, Toledo, España 250
Baptized: 6 Apr 1563, Corral de Almaguer, Church of Nuestra Señora de la Asunción, España 250
Marriage: Lucía López Robledo about 1596 252
Died: After 1632, Nuevo Méjico, Nueva España

General Notes:
Corral de Almaguer, España is located easts of Toledo 252

Herencia, Vol. 11, 2003, chart on the "Romero-Robledo and Related Families of Seventeenth Century New Mexico" p. 10 & El Farolito, Autumn 2015, pp. 16-17, Bartolomé Romero and doña Lucía López Robledo had two addition sons who died young, Pedro & Diego.

Noted events in his life were: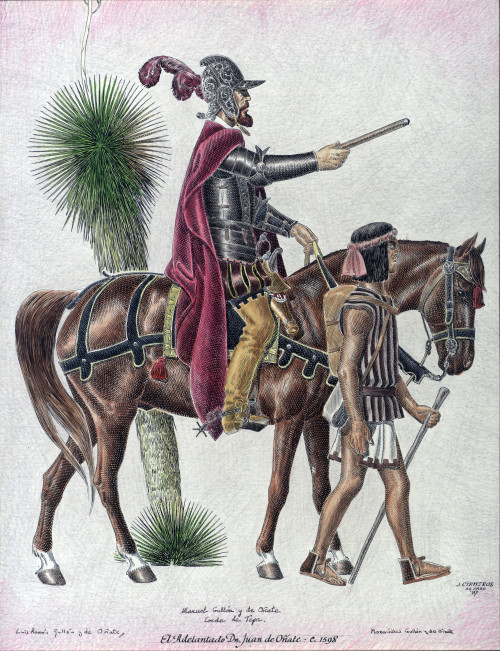 • Background Information. 252,274
Bartolomé was an Alférez at the time he came to New México with the Oñate party, but was promoted to captain shortly after the colony arrived in New México. He was married to Lucía López Robledo, and they brought their young family along with them.

Bartolomé figures prominently in Oñate's annals, he was Captain of Oñate's artillery who led the conquest of Acoma Pueblo in 1598. His last recorded act was in 1632 when he reported strange rites performed by the Pueblo People in the church at Alameda Pueblo.

Bartolomé's and Lucía's children were Bartolomé the second, Matías, Agustín, Ana, wife of Francisco Gómez and María, who married Gaspar Pérez.

~ Origins of New Mexico Families: A Genealogy of the Spanish Colonial Period, p. 95
• Background Information. 250
Bartolomé Romero was born 6 April 1563, Corral de Almaguer, Spain. He was baptized. Bartolomé and was named as a son of Bartolomé Romero and María de Adeva. This couple had at least two other children born at Corral de Almaguer. There names were Juan Romero, born 12 November 1559, and Catalina Romero.

~Beyond Origins Web Site, Vol. 2
Researcher: Gloria Trujillo

Source: Nuestra Raíces (Quarterly Journal of the Genealogical Society of Hispanic America), Vol. 7, No. 2, Summer 1995, 92 ("While touring through Spain and Portugal…Gloria Trujillo, GSHA-SC member, was fortunate enough to find this information in the records of Corral de Almaguer, Espana." - presumably located in baptismal records from the church at Corral de Almaguer).
• Background Information. 498
Bartolomé Romero was described as being of good stature, swarthy, black beard, thirty-five years old, son of Bartolomé Romero, with complete armor for self and his horse. He had a cart with oxen, one plowshare, three coats of mail, two swords, a javelin, a lance, a hooked blade, a harquebus, a pistol, twenty horses, some with armor and six mules.

Romero served as one of Oñate's most trusted officers. He represented Oñate in his relationships with the Pueblo Indians. He stood behind Oñate when other soldiers conspired to desert.

Romero may have come from conversos family. Romero's hometown, Corral de Almaguer, had a large Jewish population, and the name Romero show up among the "New Christians" in official baptismal records. Bartolomé's baptismal records, dated April 1557, names his parents and padrinos. His parents were Bartolomé Romero and María de Adeva. His padrinos were Blas Ramírez and Juana Martínez del Campo.

A woman named Isabel Romero from Quintanar de la Orden, fourteen miles from Bartolomé's hometown, was convicted by the Inquisition of Cuenca in 1589 for practicing Judaism. She was married to Alonso del Campo. There may have been some relationship between the couple and Bartolomé's padrinos.

~To the End of the Earth, pp. 112-114
Bartolomé married Lucia López Robledo, daughter of Pedro Robledo and Catalina López, about 1596.252 (Lucia López Robledo was born about 1573 in Carmena, Maqueda, Toledo, España, Iberia and died in 1618/1625 in Santa Fé, Nuevo Méjico, Nueva España 250.)