Family Links
Spouses/Children:
Unknown

Cynan ap Rhodri
Marriage: Unknown
Died: 816, Gwynedd, Wales 1013

Information about this person:
• Background Information. 1096
The kingdom of Gwynedd descended through Rhodri Molwynog to his son Hywel, who died in 825. Gwriad was said to be a northern chieftain and is believed to have come from Scotland. He married Hywel's niece, a daughter of Cynan ap Rhodri. Their son, Merfyn Frych, became ruler of Gwynedd sometime between 816-825.

~ Medieval Wales, p.
• Pedigree: From The History of Wales, Vol. II, pp. 765-767 1092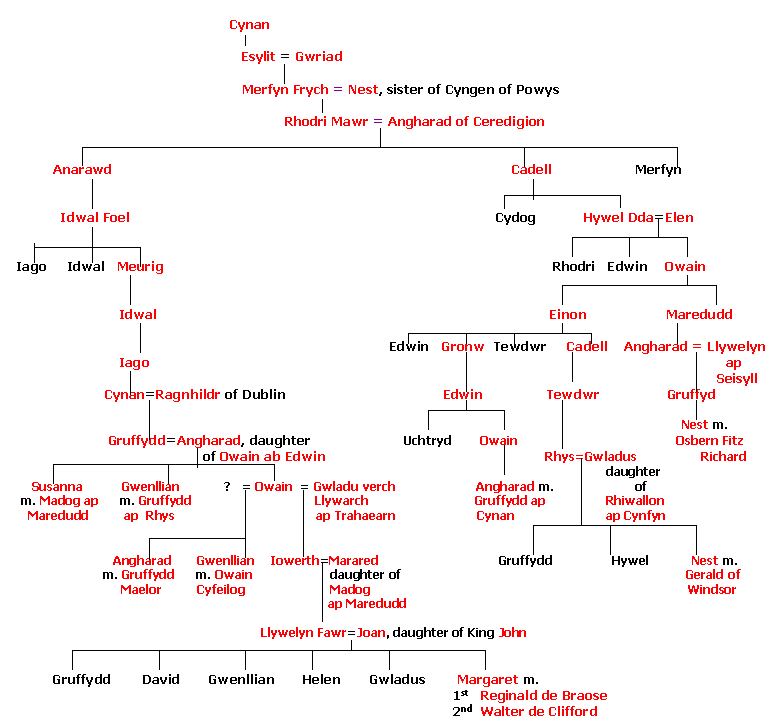 .

• Web Reference: Cynan Dindaethwy, King of Gwynedd .



Comments
My New Mexico Roots & Native Roots - My New Mexico Roots - My link to the New England Pilgrim settlers & their link to a Web of English Ancestors
© Nancy López


---
Home | Table of Contents | Surnames | Name List
This Web Page was Updated 27 May 2009