Selah Cooley
Born: 25 Jun 1768, Lyme, New London, Conneticut, British American Colonies 1145
Marriage: Joseph Walker on 28 Oct 1789 in Lyme, New London, Conneticut, British American Colonies 1145
Died: 20 May 1847, Erie, Pennslyvania at age 78

Another name for Selah was Sela or Cecilia Cooley.

General Notes:
Posted by: Robert Shaffer
Date: April 26, 2006 at 11:58:14

In Reply to: Cecilia Cooley married to Joseph Walker Jr. of Woodbury, Connecticut

I descend from Joseph Walker and Selah Cooley, through their son Dean B. Walker, born 23 July 1800 in Oneida Co., NY. Dean died 2 Sept 1851 in Fulton Co., IN.

Selah Cooley was born 25 June 1768 in Lyme, CT and died 20 May 1847 in Erie Co., PA. She was the daughter of John Cooley (born 1744) and Lydia Anderson (born 1746), daughter of John Anderson. John Cooley was the son of Mathew Cooley and Jemima Rogers. Mathew was son Eliakim Cooley, II (born 1680) and Griswald Beckwith (born 1691). Eliakim Cooley I married Hannah Tibbals, daughter of Thomas. He was the son of Benjamin Cooley (born 1617) and Sarah (Tremaine?).

Joseph Walker was born 29 Dec 1761; married 28 Oct 1789. He died 12 Sept 1843 in Erie Co., PA. He was a corporal in the 4th CT line during the Rev. War.

Ref: The Cooley Genealogy by Mortimer Elwyn Cooley 417

Noted events in her life and other information:
• Children: 584
Walter Walker b: 11 Jun 1788
John Cooley Walker b: 11 Oct 1789
Amos B. Walker b: 6 Jun 1791
??? Walker b: 29 Nov 1794
James Walker b: 25 Oct 1795
Dean B. Walker b: 17 Aug 1798
Dean B. Walker b: 23 Jul 1800 in Crawford Co. PA
Russell Walker b: 7 Jul 1802
____ Walker b: 7 Jun 1804
Betsy B. Walker b: 12 Sep 1805
William E. Walker b: 7 Jan 1809
Hannah B. Walker b: 19 Jan 1881
• Background Information:

Sela Cooley Walker was living as a widow of Joseph Walker in Pennsylvania in 1845.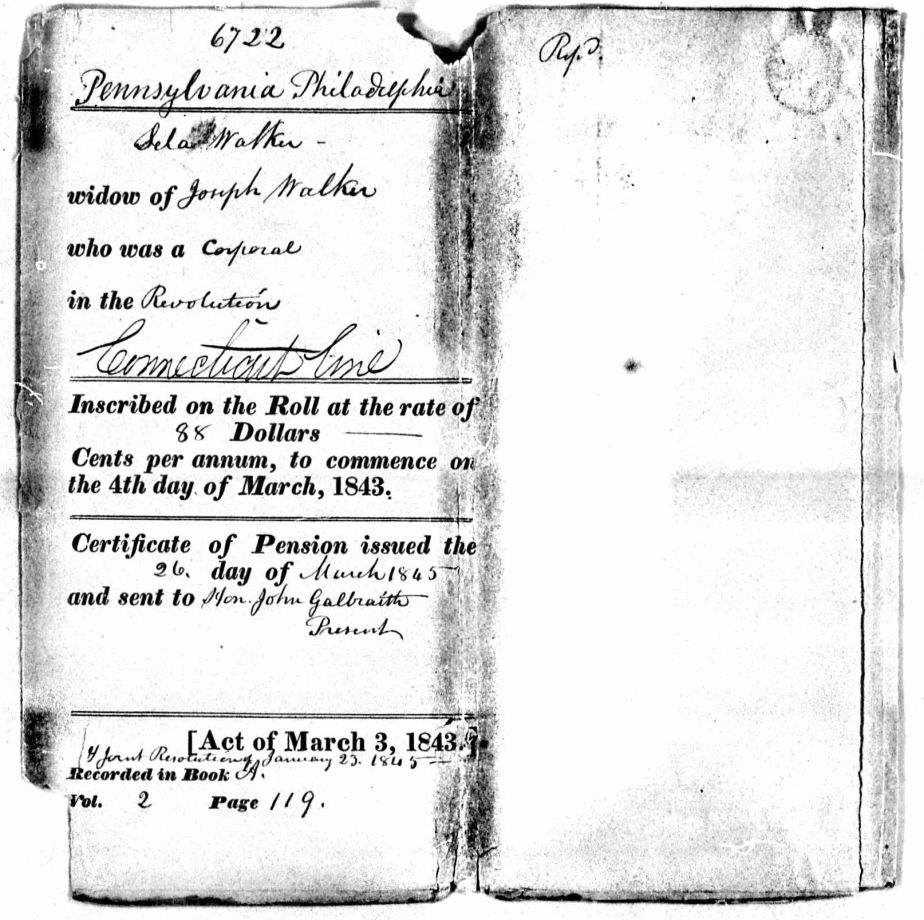 Certificate of Pension for Sela Cooley Walker
Selah married Joseph Walker on 28 Oct 1789 in Lyme, New London, Conneticut, British American Colonies.1145 (Joseph Walker was born on 29 Dec 1761 in Connecticut 584 and died on 12 Sep 1843 in Edinboro, Erie, Pennslyvania 584.)

Marriage Notes:

Family history library microfilm Roll number: 1311111 for the years 1700-1921; and 0004678 for the years 1664-1749