Roger Fitz Richard 1st Baron of Warkworth
Born: Abt 1135
Died: By end of 1177/8, Warkworth Castle, Wark-on-Tweed, Northumberland, England about age 42 160

General Notes:
~Ancestral Roots of Certain American Colonists Who Came to America before 1700, 8th Edition, 246D:26, Adelicia or Alice de Vere, married as her 2nd husband, Roger Fitz Richard, who was dead by end of 1177. He was the 1st Lord Warkworth, Northumberland, and son of Richard by Jane Bigod, daughter of Roger Bigod. 160

Noted events in his life were:
• Castle.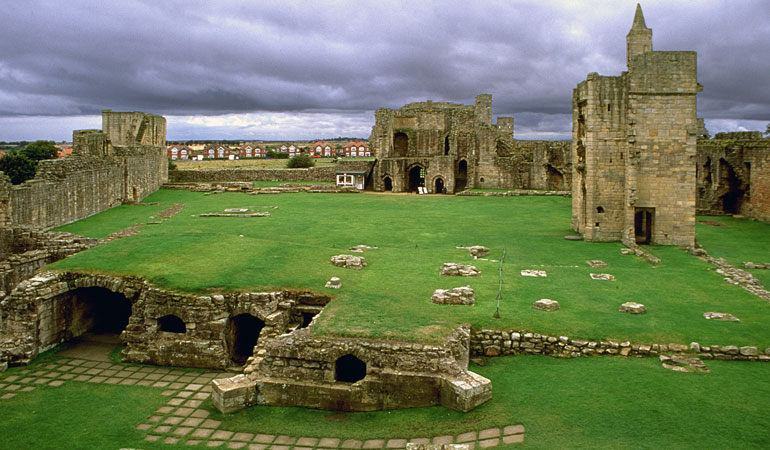 Warkworth Castle
• Web Reference: The History of Warkworth Castle.
• Background Information. 1418
"Henry II, in a charter attested by his brother, William of Anjou, gave and confirmed to Roger the son of Richard, for service rendered, the castle and manor of "Werkewrde," to be held by him and his heirs as the hereditary fee of one knight, with all that belonged to them as well as entirely as ever by his grandfather Henry I had held that man. The Richard in question was Richard fitz Eustace, constable of Chester, son by his second marriage, of Eustace fitz John, lord of Alnwick.

"Robert de Montfort, in the king's presence, called Henry of Essex a coward for his conduct, and resort was had to wager of battle on an island of Thames near Reading. Henry of Essex was struck down and carried for dead into the neighbouring monastery, where, on his reviving, his life was spared on condition of his entering the order. Th honour of Clavering forfeited by Essex, and Adeliza de Vere, his wife of sullied repute, were both bestowed by the king on Roger fitz Richard.

"Roger fitz Richard died, apparently not long after his father the constable of Chester, in 1178. His heir, Robert fitz Roger (by Adeliza de Vere) did not come of age until 1191."

~A History of Northumberland, pp. 21-23
Roger married Alice de Vere, daughter of Aubrey de Vere Sheriff of London and Middlesex, Lord Hedington and Adeliza de Clare 160.,1418 (Alice de Vere was born before 1141 in Hedingham Castle, Essex, England and died after 1185.)