Rhodri "Mawr" ap Merfyn
Born: Caer Seiont, Caernarvonshire, Wales

Information about this person:
• Background Information. 926
In 843, Roderick "the Great" (Rhodri "Fawr" ap Merfyn). son of Merfy Frych, became King of Gwynedd, Powys and South Wales. Roderick divided his kingdom into three parts. To Anarawd, his eldest son, he gave the kingdom of Gwynedd. To Cadell, his second son, he gave South Wales, or Ceredigion. To his third son, Meryn, he gave Powys. Rhodri, or Rodrick, was killed along with his brother Gwriad, in battle against the Saxons in Mon, on Sunday, in the year 873.

~History of the Princes, the Lords Marcher, and the Ancient Nobility of Powys Fadog, Vol. I, p. 64
• Background Information. 1013
The ancestry of Rhodri ap Merfyn given by Charles Cawley is:

Beli, King of Gwynedd
|
Iago ap Beli, d. 616
|
Cadfan ap Iago, d. 625, King of Gwynedd
|
Cadwallon ap Cadfan, d. 633, King of Gwynedd
|
Cadwallon ap Cadwallon, d. 664, "Fendigard," King of Gwynedd
|
Idwal ap Cadwaladr, King of Gwynedd
|
Rhodri ap Idwal "Molwynog," d. 754, King of Gwynedd
|
Cynan ap Rhodri Dindaethwy, King of Gwynedd.
|
Ethyll verch Cynan of Gwynedd married to Gwriad
|
Merfyn ap Gwriad "Frych", d. 844, married Nest of Powys, daughter of Cadell ap Bochwell
|
Rhodri ap Merfyn married to Anghard of Seisyllwg, daughter of Meurig ap Dyfnwallon, King of Seisyllwg.
• Background Information. 769
Rhodri the Great manged to unite his country under his own rule, and at his death, he divided the dominions betweeen his three sons, assigning Gwynedd to Anarawd, the eldest, Debeubarth, or South Wales to Cadell, and Powys to Merfyn.

~ Annals and Antiquities of the Counties and County Families of Wales, Vol. II, p. 791
• Background Information. 1096
Rhodri Mawr (the Great), son of Merfyn Frych and Nest, inherited both Gwynedd and Powys from his father and mother. He married Angharad of Ceredigion, and acquired the western territories of Ceredigion and Ystrad Tywi. Rhodri was now ruler of more than one half of Wales, which he held more with diplomacy rather than military might. He was killed in 878 while fighting a Saxon force, but his kingdom would remain in the hands of his descendants for generations.

~ Medieval Wales, p. 4-5
• Background Information. 1097
Rhodri Mawr faced a troubling time with the Norsemen as a constant threat in the west while the English were incerasing their power in the east. While facing these threats, he managed to be a man who promated art and literature.

Rhodri had inherited Gwynedd from his father, and when his uncle, Cyngen, died in 855, Rhodri inherited the rulership of Powys. Rhodri married Angharad, the sister of Gwgon, the king of Seisyllwg. When Gwgon drowned in 872, his kingdom became part of Rhodri's kingdom, and Rhodri was ruler of two-thirds of Wales.

Rhodri and his son Gwriad were both killed in a battle against the English of Mercia. Rhodri left six sons, among them Anarawd, Cadell and Merfyn, each ruling over the three divided kingdoms which Rhodri ruled over.

~ Land of My Fathers, pp. 136-138
• Web Reference: Royal Families of Wales from Rhodri Mawr to Llywelyn ap Gruffyd.
• Pedigree: From The History of Wales, Vol. II, pp. 765-767 1092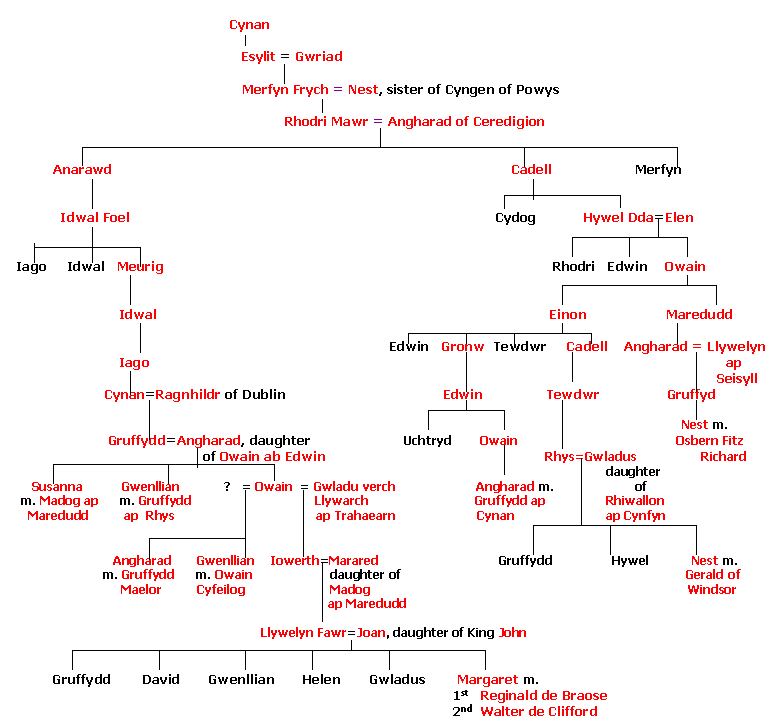 .


Rhodri married Anghard verch Merig of Seisyllwg, daughter of Meurig ap Dyfnwalon King of Seisylwg and Unknown 631.,636