John Alden
Born: 1599, Harwich, Essex, England 588a
Marriage: Pricilla Mullins Spring 1621 in Plymouth Colony, Massachusetts, British American Colonies 558a
Died: 12 Sep 1687, Duxbury, Plymouth, Massachusetts at age 88 106

Noted events in his life were:
• Web Reference. More information on John Alden from the Pilgrim Hall Museum.

John Alden in Records

Mayflower Families, Vol. 16
• Emigration: on the Mayflower and signed the Mayflower Compact. 121



Signing the Mayflower Compact 1620, a painting by Jean Leon Gerome Ferris 1899
• Family Background Information. 446
Extensive research has been done into the ancestry of John Alden, but nothing has conclusively been found. There are two major theories that have been presented over the years.

Charles Edward Banks, in his book The English Ancestry and Homes of the Pilgrim Fathers, 1929, puts forward a theory that John is the son of George Alden and Jane (---) and grandson of Richard and Avys Alden of Southampton, England. Since Bradford says John Alden was hired in Southampton, this would be a logical place to start looking for Aldens.

No other supporting evidence has been found, and it has been noted by many researchers that the names George, Richard, and Avys do not occur anywhere in John Alden's family. Naming children after parents and grandparents was an extremely common practice in the seventeenth century, and the absence of such a name is nearly enough evidence to disprove this theory.

The currently popular theory is that John Alden came from Harwich, Essex, England. There was a sea-faring Alden family living there, who were related by marriage to Christopher Jones, captain of the Mayflower. It has been suggested John Alden may be the son of John Alden and Elizabeth Daye, but this is not fully proven either.
• Background Information. 446
According to Bradford, "John Alden was hired a cooper at Southampton where the ship victualled, and being a hopeful young man was much desired but left to his own liking to go or stay when he came here; but he stayed and married here" [Bradford 443]. In his accounting of the Mayflower families in 1651, Bradford stated under William Mullins that "his daughter Priscilla survived, and married with John Alden..."

John Alden was frequently a member of the committee on the Kennebec trade. He had actively participated in the trade himself, and in early 1634 he became involved in an incident in which a party of Plymouth men led by himself and John Howland became embroiled with a group of men from the Piscataqua settlement which would grow into Dover. One man on each side was killed, and in the aftermath Alden was detained at Boston as security against the final resolution of the conflict. [Bradford 262-268]

~William Bradford, Of Plymouth Plantation, 1620-1647, Samuel Eliot Morison, ed. (New York 1952)
• Dates & Events. 558a
In 1633 Alden was appointed assistant to the governor, an office which he held for nearly all of the remainder of his life, serving with Edward Winslow, Josiah Winslow, Bradford, Prince and Thomas Hinckley. From 1666 until his death he held the office of first assistant; was often called the deputy governor, and was many times acting governor in the absence of the governor.

On the Alden farm stands the house built by his son Jonathan, having been occupied by eight generations in direct line. It is the oldest house in New England, with three exceptions:
1-the old fort at Medford, built in 1634
2-the Fairbanks house at Dedham, built in 1636
3-the old stone house at Milford, Connecticut, built in 1640.

John Alden had eleven children, only eight of whom are known, namely:
1-John, born about 1622, at Plymouth
2-Joseph
3-Elizabeth, 1625
4- Jonathan, about 1627
5-Sarah, married Alexander Standish, son of Captain Miles Standish
6-Ruth, married John Bass, of Braintree, from whom the Presidents Adams descended
7-Mary
8-David, prominent man of Duxbury.

~A Record of the Achievements of Her People in the Making of Commonwealths and the Founding of a Nation, pp. 7-6
• Background Information. 616
Information about John Alden from Ancestors of Francis Walker and Sarah Effie Vinton Kelley, p. 13:

John "was educated above the average." He was the tallest man in the colony, and the younest signer of the Mayflower Compact as well as the last of the signers to die. He was born circa 1599, and died either the 12th or 22nd Sep 1687 at Duxbury.

John was one of the twelve of the most responsible men who assumed the burden of the debt incurred in England for the Colony. Constant devotion to the public service so reduced his estate that the Court took notice of it, valuing him so highly, they felt that they could not afford to lose him, and took immediate action.

John and Pricilla Alden had the largest number of descendants as compared with those of any other Mayflower Pilgrim.
• Web Reference: John Alden from Wikipedia.



John Alden and Priscilla (Pilgrim) graves
in the Myles Standish Burial Ground in Duxbury, Massachusetts
• Grave.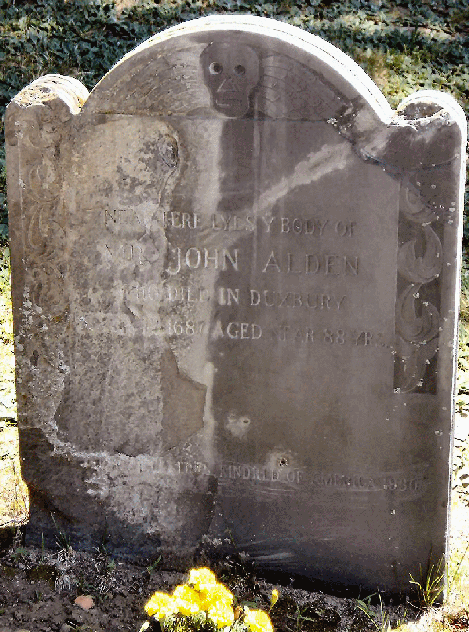 John Alden
Myles Standish Burying Ground
Duxbury, Massachusetts
John married Pricilla Mullins, daughter of William Mullins and Mary Alice, Spring 1621 in Plymouth Colony, Massachusetts, British American Colonies.558a (Pricilla Mullins was born about 1602 in Dorking, Surrey, England and died on 1 Dec 1680-12 Sep 1687 in Duxbury, Plymouth, Massachusetts 106.)