Hugues III Duc de Bourgogne
Born: 1148
Marriage: Beatrix comtessa d'Albon
Died: 25 Aug-Oct 1192, Tyre, Palestine at age 44
Buried: Cîteaux, Côte-d'Or, Bourgogne

General Notes:

~Ancestral Roots of Certain American Colonists Who Came to America before 1700, 8th Edition, 274D:28, given as father of Anna of Bourgogne who married Amadeus, comté de Savoie. 160

Information about this person: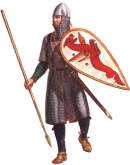 • Web Reference: Charles Cawley's Medieval Lands, Hugues de Bourgogne .
Hugues III de Bourgogne, son of Eudes and his wife Marie de Blois, succeeded his father as Duc de Bourgogne in 1162. He is recorded as "dux Burgundiæ Henricus junior," by William of Tyre, when Hugues III and his maternal uncle Etiennde de Champagne arrived in Palestine in 1171 on Crusade.

Hugues III married three times. His first wife was Alix de Lorraine, daughter of Mathieu I Duke of Lorraine and his wife Bertha or Judith von Staufen, and they had four children, Eudes de Bourgogne, Alexandre de Bourgogne, Maries de Bourgogne and Alix de Bourgogne.

His second wife was Beatrix Daupine de Viennois, comtessa d'Albon et de Grenoble, widow of Alberic de Toulouse, comté de St. Gilles and daughter of Gigues V Dauphin de Viennois, comté d'Albon and his wife Beatrix di Monferrato. Hugues and Beatrix had three children, André de Bourgogne, Mathilde de Bourgogne and Marguerite (Anna) de Bourgogne.
Hugues married Beatrix comtessa d'Albon, daughter of Guigues dauphine d'Albon et Grenoble and Beatrix di Montferrat. (Beatrix comtessa d'Albon was born about 1161 in Bourgogne,1014 died on 15 Feb 1228 in Château de Vizille, Isère 1014 and was buried in Abbaye des Ayes, Grenoble 1014.)