The
Pueblo Revolt
from Wikipedia
Surviving Columbus: First Encounters
History of New Mexico Pueblos 1598 - 1990s
The Navajo
before 1696
The
Navajo Nation
Genízaros
of New Mexico's Spanish Communities
A Genízaro Community
- Pueblo de Abiquiú
The
Abiquiú Genízaro
Grant
Genízaro
from Wikipedia
Trail Dust: Class of Indians once called '
Genízaros
' in New Mexico by New Mexico Historian Marc Simmons
Navajo Nation
: From Prehistory to the Twentieth Century

Long Walk
Navajo Long Walk
Fort Sumner Historic Site/
Bosque Redondo Memorial
U.S. Treaty
With The Navajo Tribe, 1868
Indian Ruins of the
Four Corners Area
"
Navajo
" from Southwest Crossroads Spotlight
Curtis Collection
Copper Photogravure Plates - All tribes (Zuni, Navaho, etc) can be accessed through one drop-down list box on the home page. Just select one entry in the "Tribes" list box in the group of 4 list boxes on the left of the page.
Navajo Code Talkers History
The Story of the
Navajo Code Talkers
- Sharing the Stories of the Navajo Code Talkers through 1-on-1 Interviews and Video Archives.
Memories Come To Us In the Rain and the Wind
Extracts from Oral Histories
and Photographs of Navajo Uranium Miners & Their Families
Post-Contact Social Organization of
Three Apache Tribes
Apache History
Western Apache
"Who Were the
Lipan and the Kiowa-Apaches
?"
Geronimo,
His Own Story
Cochise & Geronimo:
The Chiricahua Apaches.
Cochise
one of the most famous Apache leaders.
Geronimo's Surrender
Apache - The
Fiercest Warriors
in the Southwest
The Comanche -
Horsemen of the Plains
Comanche History
A brief history of the
Utes
.
The Present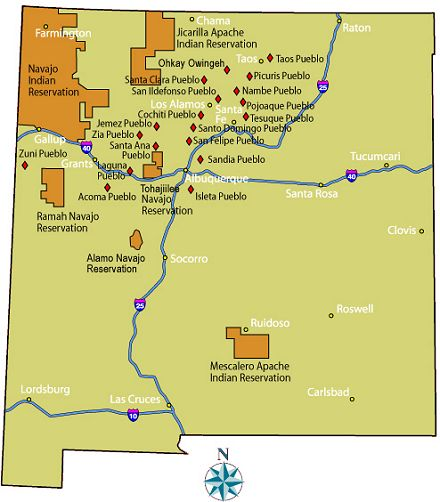 Locations of New Mexico's Native Peoples
Guide to Native Americans in New Mexico.

Museum of Indian Arts and Culture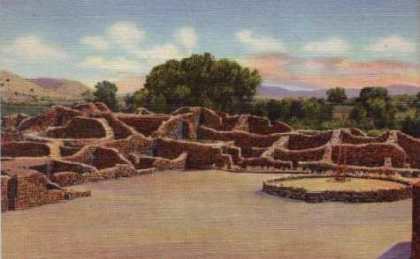 Pueblo Cultural Center.

Sandia Pueblo

Jemez Pueblo

Restoration of San Esteban del Rey Church in Acoma

Isleta Pueblo

Pojoaque Pueblo, north of Santa Fe, Poeh Cultural Center & Museum

Taos Pueblo

Images of Taos Pueblo
Pueblo of Zuni

ZuniCulture, History and more

Adding a Breath to Zuni Life - Story of the Kachina Murals on the Zuni church

Beyond Traditions ~ In honor of Zuni Fetishes

San Juan Pueblo Solar Project

Santa Anna Pueblo Tribal Enterprises

Calendar of Native American Events and Dances in Central New Mexico



Ceremonial Costumes of the Pueblo Indians Their Evolution, Fabrication, and Significance in the Prayer Drama

Songs of the Pueblo Peoples



When George Cushing came to Zuni Pueblo in the late 19th century,
he characterized Zuni pueblo in his writings and drawing. Over 100
years later, Zuni artist Phil Hughte has turned the tables and has
created drawings of Cushing and his expedition.

Koshares - The Sacred Clowns

Picuris Pueblo Matachines Dances

Picuris Pueblo

Bien Mur Indian Market Center owned and operated by Sandia Pueblo

Pueblo Languages

Hear the Pueblo Languages of New Mexico

Maria Montoya Martinez and her son, Popovi Da demonstrate
how Pueblo Indian Pottery is made using traditional methods
Acoma pottery in the past and today, and "Acoma Pottery Design Motifs"

The Pueblo of Sandia Petroglyph Project

Pueblos: Masonry and Adobe Communal Housing

Internet Public Library: Pueblo Pottery Exhibit





NM Indian Tribes

Ramah Navajo

"Wolves, moonshine and Billy the Kid - You can hide most anything in the rugged hills of Ramah" from the Navajo Times

Ramah Navajo Weavers Association Sustains Time-Honored Connections from Indian Country

Ramah Navajo Indian Reservation from Wikipedia

Alamo Navajo Indian Reservation

Remember Alamo - The Navajo Nation's stepchild has found creative ways to prosper on its own from the Navajo Times

Alamo Navajo Indian Reservation from Wikipedia

The Navajo peopleand Navajo Nation from Wikipedia

The Navajo Nation Home Page

Discover the Navajo Nation

From Chinle, Arizona The "Unofficial"
Canyon De Chelly & Navajo Central.org Website

Background and History of Navajo-Churro Sheep, Descendants of the Iberian Churra

Next-generation Medicine Man- An interview with Albert Laughter.

Navajo Clans

Navajo Rugs: Styles on the Reservation

NavajoTreaties, Laws and Documents



The Navajo Creation Story
Navajo Culture

Navajo History

Navajo Pictures

Navajo Art and Navajo Rugs, Blankets and Weaving, Navajo Jewelry and Pottery

Diné Bizaad- The Navajo Language

Navajo Homes - Hogans

Navajo Clothing

Navajo Food

Navajo Sand Painting

"Navajo Weaving: A Study in Cultural Change and Adaptability"

Sacred Mountains as a Hogan



HOGAN: Diné (Navajo) Traditional House

Sand paintings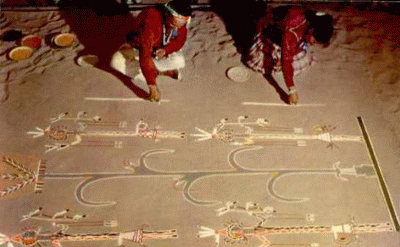 The Hooghan
Navajo Ceremonial
Changing Woman

A Brief Social History of Navajo Weaving

Navajo People - Learn about the Diné and Diné Bikeyah

Diné CARE ~ Diné Citizens Against Ruining our Environment

Navajo Religion A Sacred Way of Life

Navajo Legends

Diné Bich'iya' - Traditional Navajo Recipes

Navajo Genecology & Family History of Harrison Lapahie Jr.,
along with further information about his people.
Seasons Of A Navajo [1983]
Jicarilla Apache Nation

Jicarilla Apache Culture from The American Anthropologist

Curtis' early 20th-century ethnography of the Jicarilla and other Apache Indians.

Myths of the Jicarilla Apache

Online collection of 53 Jicarilla myths and legends, as well as oral histories and traditions.

The official White Mountain Tribal Site


Apache Girl's Rite of Passage
Becoming Woman: The Sunrise Ceremony

Through Apache Eyes...PurpleHawk's Nest

Apache Indian Photo Gallery - Photos of Apache, past and present

Apache History, beliefs, customs, food, ceremonies, dwellings, and more

"Traditional Apache Life"

Chiricahua Wickiup

Profile Of An Apache Woman

Jicarilla Apache Texts

Chiricahua and Mescalero Apache Text

APACHE TRIBE

Apache Leaders

Apache Women

Apache: Creation Story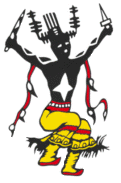 An Apache Medicine Dance

Apache Warriors


Against the Winds: Traditions of Native American Running.

SW Association for Indian Arts

Indian Arts & Crafts Association

Peace Party, A multi cultural comic book featuring Native Americans

Native American Herbs & Plants Of The Southwest

Rock Art of the Southwest

Southwestern Rock Art and Petroglyphs

Hopi: The Corn People

Native American Rights Fund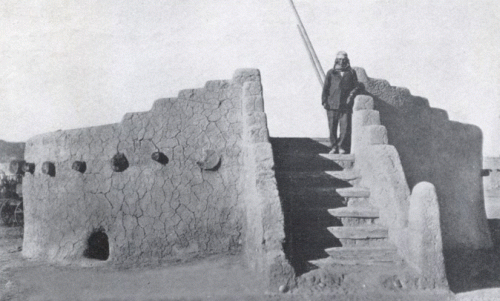 Kiva
Institute of Native American Arts

Southwest Indian People: Overview had information on all the Indian People through the U.S. Southwest

Gallup Inter-Tribal Indian Ceremonial


1947 Film Showing Native Dances at Gallup's Inter-tribal Ceremonies
Santa Fe Indian School

Native American Studies at the University of New Mexico

SIPI - Southwestern Indian Polytechnic Institute

American Indian Science & Engineering Society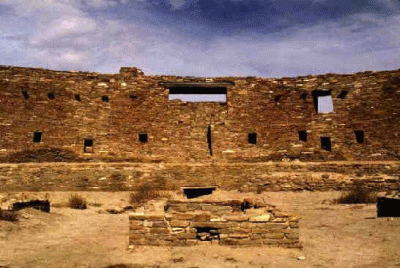 Casa Rinconada
Legends, Lore & Literature
At the Rainbow's End & Spider Rock, Navajo Lore.

Anasazi Diaspora -- Navajo Myth

The Dîné: Origin Myths of the Navaho Indians

The Sacred Sky of the Navajo and Pueblo.

Myths of the Jicarilla Apache

The Origins of Fire & Animals according to Jicarilla Apache Lore.

Apache Creation Story

Apache Indian Folklore - "Why the Bat Hangs Upside Down"
Check the drop down menu for more Apache Legends

Myths of the Jicarilla Apache



Rind Swentzell: An Understated Sacredness | New Mexico
Pueblo Indian Folk-Stories

Pueblo Legends and Stories

Rainmakers From The Gods, Hopi Katsinam

The Origin of Summer and Winter according to Acoma/Laguna Lore.

The Zuni Creation

Kachinas of the Western Pueblos from Wikipedia