Laguna on the day I first
brought her home.

This is the photo I found on
the ABQ Shelter's Website.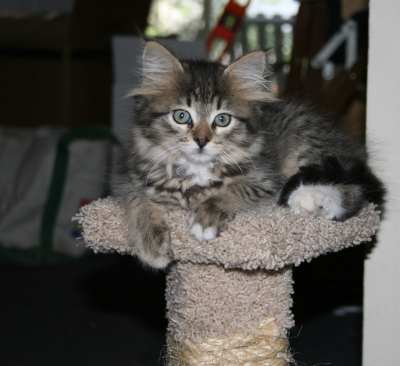 Laguna on the day I
first brought her home.
| | |
| --- | --- |
| With the exception of Jim's girls, Cassy and Polly, all my cats have basically found me and moved in with me. Laguna was my first "pound kitty." I was impressed with the way the Albuquerque Animal Care Center took care of their kittens. Before I could touch Laguna, they made me sanitize my hands and arms. Laguna had been well taken care of and was a "people kitten." | |
I had been planning on adopting another cat so Pojoaque could have a friend. When he and Cassy first met Laguna, they couldn't take their eyes off her. For the next week, it was a Pokie and Laguna love affair.
Until I saw Pojoaque with Laguna, I didn't realize just how much my Pokie boy had grown.
| | |
| --- | --- |
| | I started playing with a towel in order to keep Pokie from scratching my arms. Playing "towelie" quickly became a favorite of Pojaoque's, and now Laguna gets involved. |
Some times, I call Laguna my Lagunacita or Guna but
there are moments when I have to call Laguna my "Goony Girl."